Solar power can provide electricity for many applications.
In remote locations it may be the only practical solution since reliable power can be provided virtually anywhere. In addition, more and more residential customers are realizing the benefits of utilizing solar power for electricity to offset their energy consumption bills, to provide back up power. Solar power is the solution.

Kipawa Solar & Log is a trusted and respected supplier of reliable solar power systems throughout Quebec and surrounding areas. We are known for using the highest quality solar panels and related components when integrating solar power into your project, and we provide a high level of responsive, expert technical support to our customers.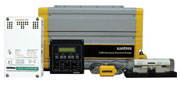 Balance of system components. We carry all necessary components to integrate solar power which includes solar panels, mounting structures, solar controllers, inverters, batteries, enclosures, wiring and fittings. So whether you need a few watts a day or a few thousand we can provide the complete power system package. Utilizing solar power has never been easier, and doing business has never been more reliable when you build your power system with Kipawa Solar & Log.